New Privacy Policy Kids on the Block
Working in the current digital marketing age, impactful updates and changes can happen extremely frequently and keep marketers on their toes. In recent years, we've seen privacy front and center with the implementation of policies like the California Consumer Privacy Act (CCPA) and the General Data Protection Regulation (GDPR). These changes have forced marketers to evolve in their privacy efforts and compliance, making their customers and consumers' privacy preferences a priority. The latest monumental privacy change comes from Apple and affects both consumers and marketers.
Apple's New Operating System Privacy Updates
In June 2021, Apple published a press release stating plans to implement new privacy policies for the (at the time) upcoming iOS15, iPadOS 15, macOS Monterey and watchOS 8 releases. While iOS15 and iPadOS15 have now been available for just over month (they were launched on September 20, 2021), desktop versions of these updates were just released on October 25, 2021.
Among the several updates the press release mentioned, many privacy policies immediately gave email marketers concern: the introduction of the Mail Privacy Protection (MPP) Policy, and the Hide My Email option.
What is Apple's Mail Privacy Protection Policy?
Apple's press release announced it will stop email senders from using the invisible pixels included in emails to collect information about the email recipient. Apple Mail users who have upgraded to iOS 15 can block their IP address, email opens data, location data, device details and more that are normally captured with invisible pixels. This affects any emails, including non-Apple email addresses like a work account or Gmail, opened by the Apple Mail app on any device. It doesn't affect email-specific apps on Apple devices, such as the Gmail app. Once the privacy policy is enabled, email content is downloaded once the email is delivered to the subscriber, to their device. Email content like images are automatically prefetched – meaning an Apple machine on a proxy server will download the images to indicate an open, regardless if the recipient has opened that email themselves or not. As a result, email open metrics might not be as reliable or exact; you're potentially not seeing a 'real' open in your metrics.
This privacy feature has now been live for just over a month, and is not automatically turned on; you have to select whether you want your mail activity protected or not: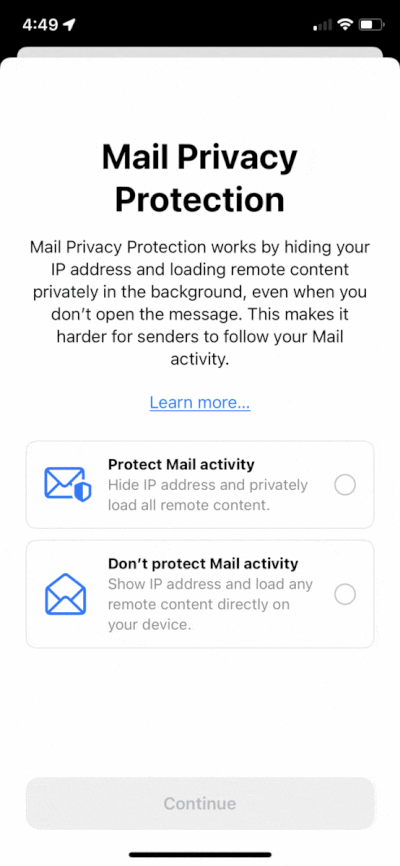 Source: Litmus.com
Once a user has upgraded to iOS15, they have to actively select to either enable the Mail Privacy Protection Policy or to decline it when they open the Apple Mail app for the first time on the new system.
Why is this update notable?
The email marketing solution Litmus cites that Apple Mail users make up nearly half of all email opens. If you know that Apple Mail users make up a large portion of your sending audience, you'll start to see inflated (and most likely not accurate) open data as more and more Apple Mail subscribers opt-in to this policy.
This privacy news certainly threw many email marketers for a loop: tracking opens is an extremely popular metric to use and include for reporting, analysis, and implementing an email program strategy. However, there seems to be two camps when it comes to using opens as an engagement metric: it is the be-all, end-all engagement metric, or it isn't that important of a metric to measure. Regardless of which camp you are in, this update is forcing email marketers to reevaluate tracking and analysis, and to ultimately be more agile when approaching industry-disrupting updates from email service providers.
However, prefetching emails to inflate the open rate isn't the only Apple privacy update that should concern email marketers; there's also the hiding of the email recipient's IP address. Many email campaigns rely on IP address and location data to provide personalized content such as nearest store or weather forecasts to provide relevant, engaging content with their subscribers. Any campaigns that rely heavily on this information will have to be reevaluated for your Apple Mail users if their locations will not be accurate.
What is Apple's Hide My Email policy?
Not to be overshadowed by the news of inflated open rates, but another update to highlight is the enhanced Hide My Email privacy policy built in to Sign in with Apple and iCloud+.
Hide My Email allows users to keep their personal email address private by sharing unique, randomly-generated email addresses that then forward to their personal email inbox. This works in two different ways: either an app or a website has enabled the "Sign in with Apple" feature that will allow users to provide a system-generated email address when navigating to those items, or the user has upgraded to an iCloud+ account, which will generate an email address when browsing in Safari, regardless if "Sign In With Apple" has been configured.
Why is this update notable?
With Hide My Email, there is potential for contact lists to grow as users implement this feature more and more to sign up for newsletters or to receive coupons from your marketing efforts. It's similar to subscribers using multiple real email addresses aside from their primary one to become your subscriber. Emails generated via Hide My Email won't be distinguishable from real @icloud.com email addresses, and therefore won't be easily mapped to any current-existing subscribers. If your email program doesn't include coupons as an incentive or if your website is not coded for the "Sign in With Apple" functionality, you might not see as much of an impact with this option. However, there is still that potential to see lists grow with these phantom email addresses.
In testing the Hide My Email function, once the fake email address was deleted, a test send to that address was shown as undeliverable. This is crucial, as any deleted Hide My Email-generated address will show as a hard bounce if attempts to send to this address are made.
How Do We Move Forward?
There several steps to follow in order to understand just how extensively this new change will impact your audience and in turn, your metrics, and some suggestions to consider as these new policy changes are implemented:
Determine just how many of your subscribers are Apple Mail clients. Knowing how many of your subscribers could be impacted by this update will provide you with a starting base line. Early statistics quote that this will affect nearly half of all email users; however, it's possible that for your business, non-profit, or institution, that number won't be quite so high. By knowing the audience size of Apple Mail users, you can create a segment of just that, to conduct testing on how open rates are performing without the inflated Apple Mail users metrics. You'll also want to review your current metrics to determine how you might have already been affected: look at your engagement metrics prior to the September 20 rollout, versus today. Are you seeing a large increase in opens?
Create content in your emails that is not only enticing to your audience, but will prompt them to interact with them. This will be even more important: encouraging your audience to engage with your emails once opened by including clickable links in your content that your audience will want to interact with.
Review where opens are playing a role in the configuration of different objects. For example, do you have a journey built that is looking at opens as an engagement split, before sending subscribers down a certain path versus another? Revising any object that relies only on opens, and shifting to a different metric, like clicks, will help you receive more reliable data on your subscribers and their interaction with your emails.
Directly ask your current subscribers and potential future subscribers to provide information about themselves for your marketing needs and uses. Take care to make it clear and transparent why you're asking them for certain data; that this information will be used to provide them personalized, relevant, and engaging content. This could be an opportunity to revise a preference center, to gain insight into your subscribers by specifically asking them more information about them.
This is an opportunity to diversify engagement metrics and to look at your subscribers more holistically. What other information can provide insight into your subscribers' behaviors? What other channels, other than email, can provide a better view of your constituents, your donors, your audience? Perhaps SMS metrics, monitoring subscriber (and even unsubscribe) list growth, revenue growth and also insight provided by tools like Google Analytics to see the journey of website visitors who originated from your emails. Opens will still be relevant, but don't rely solely on them. Likewise, clicks currently are not affected by the iOS updates, but you don't always want to solely rely on them, either.
Final Thoughts
From a consumer/customer standpoint, having a large company take privacy concerns and making such sweeping changes is understandable and appreciated. From an email marketing standpoint, it's forcing our industry to evolve and adapt to how we measure engagement and plan programs based on that analysis. While we are currently in the early days of its adoption, more insight and information will help email marketers, organizations, and subscribers navigate these changes. As we see more information made available to the community around these changes, we'll make sure to update you. For now, we will continue to test, learn, grow and adapt to these new changes implemented by Apple. Are you working to adapt to these changes? Contact us today to chat with one of our digital engagement experts directly.
Connect with Salesforce Marketing Cloud Experts
Here at Attain Partners, we have a team dedicated to the digital engagement that Salesforce Marketing Cloud and Pardot can provide for your email marketing programs. We're here to help whether it is for new implementation or revising an existing configuration. Click here to learn more about how we can support your organization to reach its goals.
Explore blog posts from Attain Partners' Salesforce Digital Engagement team.
About the Author
Cecilia Riester is a Senior Salesforce Marketing Cloud Implementation Consultant on the Digital Engagement team at Attain Partners. Cecilia has worked with nonprofit, retail, and higher education clients. She is passionate about helping organizations implement and navigate Salesforce Marketing Cloud to achieve their digital marketing business needs.